Rulo, recycling rigid PVC
Founded in 1985 and based in Belgium near Tournai, RULO is a 100% subsidiary of AUREA, specialised in collection and recycling of rigid PVC.
The plant has a processing capacity of about 20 000 tonnes per year. Located on a 8 000 m² site, it comprises a grinding line, pulverisers, silos and storage areas.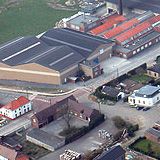 It is one of the few in Europe are to process products from the BTP (chassis, windows, shutters, pipes, production waste, out-of-date stock, post-consumer waste, etc.), polluted by the earth, sludge and metals, assuring a constant quality regardless of the origin of the PVC. It produces powders or granulates, fully reusable material with a material loss of less than 1%, resulting in significant purchase savings for PVC converters, who can use up to 70% of recycled product.
In particular, the company has developed techniques capable of treating "post-consumer" waste:
Treatment of all plastics, even those comprising metals which are "demetallised" (removal of steel, iron and other non-ferrous metals) before grinding so as to not cause blockage of grinders,
Elimination of any potential contaminants.
Internet site: RULO