Roll-Gom, recycling of used tyres
The company ROLL GOM does not produce and doest not sell rubber aggregate or rubber powder for the sport grounds.
The company ROLL GOM was acquired 100% by AUREA in August 2006. It specialises in the processing of used tyres. The Tilloy site (Pas de Calais) is the only plant in France to produce rubber remoulded tyres from worn non-reusable tyres.
With an annual production of between 13 million and 16 million wheels and castors (with diameters ranging between 125 and 400 mm), ROLL GOM holds the position as European leader of materials handling wheels.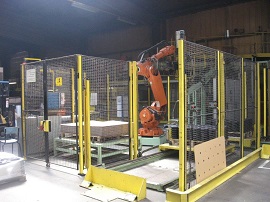 The company recycles approximately 30 000 gross tonnes of used tyres (equivalent to 15 000 tonnes of rubber), or about 10% of the French annual production of old tyres, to cast tyre strips from granulates or tire crumbs.
1 out of 10 tyres bought in France will eventually be recycled at ROLL GOM.
The main market is the manufacturing of wheels and castors for industrial and outdoor handling: dustbins, wheelbarrows, rubbish containers, high pressure cleaners, fire extinguishers, and scaffolding, etc.
The ROLL GOM range includes:
85 rubber tyre strip models, for equipping outdoor handling wheels and castors,
200 models of materials handling wheels.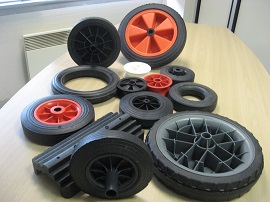 Besides its rubber processing business, the company also produces on this site, the wheel hubs for its tyres, by means of plastic injection machines Plastics, part of which comes from plastic recycled by its Plastics division.
The Tilloy site is classified as ICPE (Classified Installation for Environmental Protection). ROLL GOM is actively involved in environmental protection and sustainable development by giving new life to a share of the French annual volume of PUNRs (Not Reusable Used Tyres).
Since 2008, AUREA has regularly invested with a view to increase its production capacity and its manufacturing efficiency. Besides acquiring two palletising robots in 2011 and 2012, in 2013 ROLL GOM invested in a pre-grinding machine for used tyres, in order to diversify its sources of supply.
The ROLL GOM plant has an area of 35,000 m², of which 4,500 m² is covered.
Internet site: ROLL-GOM