Ecological Petroleum Recovery, aqueous waste recycling
Subsidiary of AUREA group since December 2015, E.P.R. specialises in the treatment of industrial hazardous liquid waste and material recovery of hydrocarbons in the form of alternative fuel.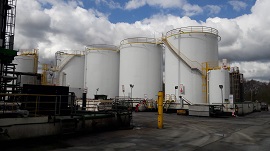 The physico-chemical sector involves separation of water and hydrocarbons either by a physico-chemical cracking process or by centrifugation.
The evapo-incineration sector is used for the incineration of aqueous waste and the concentration of hydrocarbons.
The treated wastes include, contaminated wash water, aqueous machining fluids, oily emulsions, residues from distillation/decanting, mixtures of liquid water/hydrocarbons, heavy fuels, hydrocarbons, oils etc.
E.P.R. has a 100 000 tonnes/year processing capacity at the site of Lillebonne (76), close to ECO OIL, and could benefit from its expertise as it develops.